By Jethro S.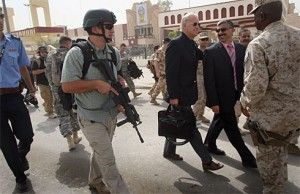 Since the end of the Cold War, the Private Security Firms (PSFs), even known as Private Military Companies (PMCs), Private Security Companies (PSCs) have assumed more and more worldwide relevance to play growing roles in support of state defense and multilateral reconstruction strategies.
Then the ongoing global instability since the terrorist attacks of 9/11 fosters a demand for private military and security services in areas of counterterrorism and homeland security too. Into the 21st century, PSFs are becoming increasingly important principally in the fighting against drug trafficking organizations and organized crime.
One definition we could identify for PSFs is based on their goal "for-profit organised ventures providing security-related (in a broad sense) services". In strictly sense is getting profit by using means as principally selling military and security services.
Nowadays, PSFs is a modern complex corporate reality  which develops concept, training, services, activities and know-how to a wider customer base.
Historically they belong from a private military/police structure concept which constantly evolves to a firm, flexible in transforming itself during the years (i.e. Blackwater USA – Blackwater Worlwide and now, XE), integrate in the Worldwide Branch Corporative system, with qualitative aspects based on a extensive spectrum range of services in the framework of a legitimate aspect that evolves from the old 70's concepts of mercenaries like was for Mr. Bod Denard and "les affreux" to a more modern professional concept of "Service provider".
Then finally as a peculiar characteristics I would even consider the quantitative growth aspects, which are directly connected to the scale of operations to conduct which will impact on their dimension, internal structure, C2, this especially with the multi-tasking activities to provide.
In strictly quantitative terms from 1992 to nowadays the spreading of PSFs is all over the globe with a main focus in Africa, America and with less involvement in Asia, especially China and India, but the trend is and will be in continuous increasing by the various kind of modern warfare conflicts.
The large spectrum of services is mainly classified in three main types: military provider firm, military consultant firm and military support firm based on the intensity level of battlespace AO that will provide Combat C2, Advisory & Training and other military and security related services (logistic, intelligence, linguistic, Comms, base support).
Their key of success is based on the gap that military is not able to fill. Some reasons for having a PSFs are based on obtain military and security related capabilities (lack of resources, time or trust) together to avoid budget limitations or personnel limits, to limit public opinion influence and avoid direct involvement. Then on the other – military – side, the military is obviously directly related to accomplish the military mission itself.
Last interesting aspects of law regulation is the lack of international law, as well any role of home-country regulation. This situation is endangered by the confusion between the individual/organisation levels, not existing flawed doctrine, ROE created by PSFs on an ad-hoc base, limited/partial weight of commercial restraint and lack of systematic practical experience.
In conclusion, PSFs have made the reality of security more complex, they can fragment by privatizing it and by making it available to different kind of customers…but control and reform them requires to involve social, economical and political processes and can hardly be handled just by regulation.
Jethro S.
Photo credit: pmcpsc.com