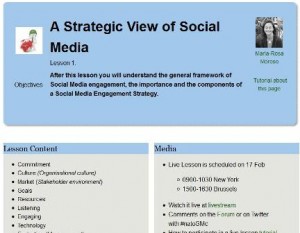 È programmata per oggi, lunedì 17 febbraio, dalle 15 alle 16.30 ora italiana, la prima lezione del primo corso online della NATO dedicato all'uso dei social media: NATO Social Media User Pilot Course, curato da Innovation Hub e sponsorizzato dall'Allied Command Transformation della NATO.
Questa prima lezione è intitolata A Strategic View of Social Media ed è condotta da Maria-Rosa Moroso, analista della NATO Communications and Information Agency (NCI) di Bruxelles.
Per seguire la lezione live connettersi via Livestream (http://new.livestream.com/accounts/5595552), allo stesso indirizzo saranno disponibili tutte le lezioni registrate del corso.
Commenti e domande anche in diretta sul forum di Innovation Hub o via twitter @Innov8Hub con l'hashtag #natoSMc
Articoli correlati:
NATO e social media: al via il primo corso online per militari e civili della Difesa. Stay on top with MOOC! (10 febbraio 2014)
Fonte: Innovation Hub