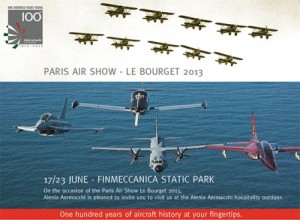 Alenia Aermacchi, azienda del gruppo Finmeccanica, ha comunicato le date di tre eventi speciali che si terranno al salone aeronautico parigino di Le Bourget nello spazio Finmeccanica.
Martedì 18 giugno, alle 11, è possibile fotografare i modelli storici SVA 9, del 1918, e MB-308, del 1947, nell'area esterna Finmeccanica Static Park (C-65).
Mercoledì 19 giugno, rispettivamente alle 10 e alle 11, è in programma il seminario Alenia Aermacchi global player: 100 years of design, development, production and support of civil and military, area Finmeccanica chalet (A-232) Auditorium, e l'aggiornamento per i media sui test dell'MC-27J, versione multimissione del diffuso trasporto tattico C-27J Spartan, Alenia Aermacchi: MC-27J test updates – Media briefing, nell'area Finmeccanica Static Park (C-65) Alenia Aermacchi outdoor.
Il 50esimo International Paris Air Show Le Bourget si tiene quest'anno dal 17 al 23 giugno.
Articoli correlati:
Il salone aeronautico di Le Bourget in Paola Casoli il Blog
Alenia Aermacchi in Paola Casoli il Blog
Fonte: Alenia Aermacchi
Foto: Alenia Aermacchi