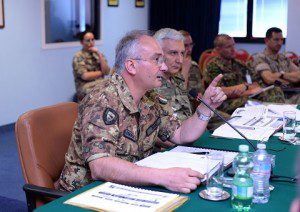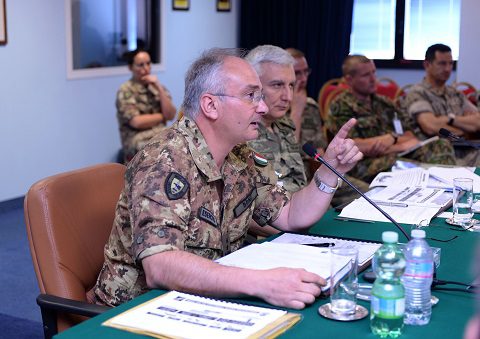 Rapid Deployable Corps-Italy (NRDC-ITA), the NATO HQ based in Ugo Mara Barracks, in Solbiate Olona – Varese (Italy), hosted the 4th Chief of Staff (COS) Conference from 9th to 11th of June.
The conference chaired by Major General Ugur Tarçın, Chief of Staff of the Land Command in Izmir, is organized yearly and is aimed to get together the nine NATO Graduated Readiness Force (Land) Headquarters Chiefs of Staff (COS).
Currently, NATO is experiencing a significant change to force posture – perhaps the most relevant since the end of the Cold War, as many of the analysts are inclined to underline. In consideration of this conceptual framework, the conference timeline has been properly defined in order to enhance the development of a comprehensive approach to the challenge the Alliance will be requested to face.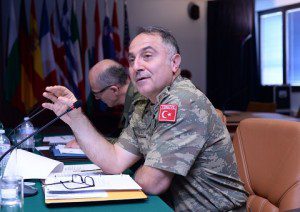 The Conference, indeed, provided a valuable opportunity for Senior Officers to discuss a wide range of common issues related to the implementation of new NATO structures and concepts. The interest showed by all the Senior Officers during the development of this symposium, is the evidence of the cohesiveness existing amongst the different NATO Land Forces community and their will to achieve common goals.
In addition to express the validity of the mutual support concept, the 28 nations of the Alliance are determined to resource the Readiness Action Plan to show the NATO strongest commitment to enforce cooperation, collective security and crisis response.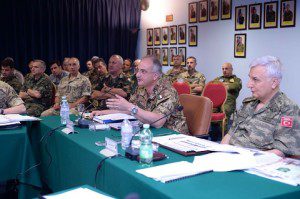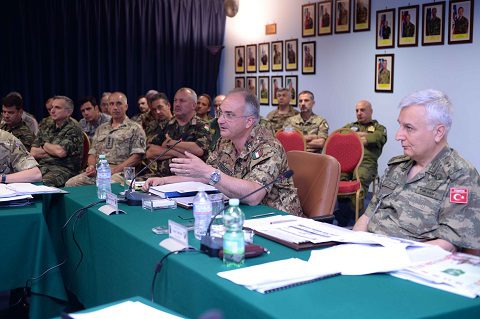 It is important to underline that this declaration of common intents comes right when the Alliance is alarmed by a degree of ambiguity showed by Russia in the international arena and concerned by the some indications of instability in North Africa involving the Mediterranean area even.
In addition to geopolitical issues some other topics discussed by the Senior Officers were about interoperability and connectivity, with a deep dive into contemporary threats such as Cyber threat and Crisis management.
"This conference has been a huge success – said Major General Maurizio Boni, Chief of Staff of NRDC-ITA -Each of the Land Graduated Readiness Forces HQ are in a better position to move ahead with the challenges that they currently face".
NRDC-ITA has recently turned into the role of a Joint HQ capable to lead a Multinational Task Force at operational level, after the successfully validation achieved at the end of the Trident Jaguar training cycle in April (links below).
Related articles:
NRDC-ITA in Paola Casoli il Blog
Trident Jaguar in Paola Casoli il Blog
Source: NRDC-ITA
Ph. Credits: NRDC-ITA