By Jethro S.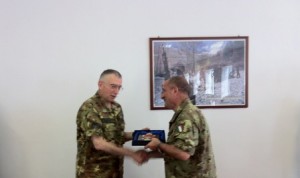 The Italian Army Chief of Staff general Claudio Graziano paid a visit to the Exercise Hasty Attack 2012 in Monte Romano last 12th July.
The exercise has been conducted in the fire range of Monte Romano by the 191st course  young Infantry Officers  of the Turin Scuola di applicazione  commanded by Ltc. Giulio Di Marzio.
The four-star general was welcomed by the two-star general Giuseppe Spinelli, Commander of the Scuola di applicazione who was firstly briefed by the exercise director.
Gen Graziano has then followed the platoon leaders during their  attack giving at the meantime treasuring suggestion for the attack conduct.
Finally, during the hot wash up by the exercise director he addressed his speech and motivation to the young officers and all the Commander officers committed in the exercise. His four-hour stay was appreciated by all the officers, non-commissioned officers and soldiers and has to be considered as a great value for the young Infantry Officers.
Jethro S.
Related articles:
The Scuola di Appplicazione di Torino in Paola Casoli il Blog