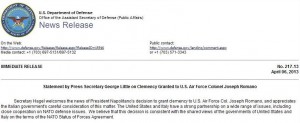 La grazia concessa dal Presidente della Repubblica Giorgio Napolitano al colonnello statunitense Joseph Romano – condannato a una pena di cinque anni inflitta con sentenza della Corte d'Appello di Milano del 15 dicembre 2010, divenuta irrevocabile il 19 settembre 2012 , nell'ambito del rapimento dell'imam egiziano Abu Omar nel 2003 – è stata apprezzata dal segretario alla Difesa americano Chuck Hagel, che la considera coerente con la condivisione di vedute tra Italia e Stati Uniti in relazione agli accordi che regolano la NATO.
Ecco il testo della dichiarazione, datato 6 aprile 2013 (foto):
Statement by Press Secretary George Little on Clemency Granted to U.S. Air Force Colonel Joseph Romano

Secretary Hagel welcomes the news of President Napolitano's decision to grant clemency to U.S. Air Force Col. Joseph Romano, and appreciates the Italian government's careful consideration of this matter. The United States and Italy have a strong partnership on a wide range of issues, including close cooperation on NATO defense issues. We believe that this decision is consistent with the shared views of the governments of United States and Italy on the terms of the NATO Status of Forces Agreement.
Fonte: US Department of Defense
Foto: US Department of Defense